Israeli drone manufacturer, Gadfin, aims to connect the country's hospitals with a drone supply network and has its sights set on providing essential services for remote Third World locations, reports israelhayom.com.
Israel's Gadfin drone producer is the "first company in the world" to receive the Israeli Civil Aviation Authority permit for urban airspace deliveries. This authorisation means that Gadfin can deliver supplies via their drones to hospitals, laboratories and a range of other organisations via connected networks, flying over-congested roads while reducing risk to sensitive, refrigerated packages.
Gaining a permit to operate in Israel's civilian airspace, which is small, crowded and limited to the space "left over" by the Israeli air force's extensive use is no simple process. It requires overcoming the most stringent safety protocols.
Gadfin holds several breakthrough patents, including a drone called 'Spirit One' that folds out its wings in-flight. It can take packages weighing up to 15 kilograms across more than 250 kilometres. The craft are operated autonomously.
The company is also designing a larger version of 'Spirit One', called 'Spirit X', which can hold 100-kilogram packages across 500 kilometres.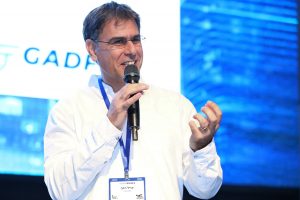 Gadfin Co-Founder and CEO Eyal Regev 
"During an interview with Israel magazine website, jns.org, Gadfin CEO Eyal Regev, a former senior manager at Israel Aerospace Industries (IAI) explains, "The word Gadfin means 'two wings' [in Aramaic]. One wing represents the desires, abilities and the ego of a person, and the second represents the wisdom to use all of one's abilities for good. If these capabilities are used for good, a person can develop spiritually."
And so the name of the company was born in 2018 when Regev joined forces with Ran Kleiner, a former Innovation Manager at IAI, and Ilan Yuval, a leading logistics expert. During his time at IAI, Regev's roles included managing R&D of large-scale UAV systems, as well as heading the vertical take-off/landing (VTOL) and multi-rotor programs.
In 2006, he decided to conduct market research on delivery drones. "I realised here was a big potential market," continued Regev, "and I established this as a department in IAI." While the vision of food deliveries via drone is a strong likelihood, Regev says there is the challenge of "optimisation" to overcome.
He explains, "When we look at the world, we see that most areas are in the periphery which therefore lack the services that city centres enjoy. This is true for Southeast Asia, Africa and South America, but also in some regions of the West too." Adding, "Medical tests, for example, have short lifespans and need to reach destinations quickly."
In March this year, Gadfin began its first drone delivery service in Israel, moving high-priority machine parts from a logistics company warehouse to an HP-Indigo integration line. Unfortunately, the service was curtailed due to the coronavirus disruptions, but the precedent had been achieved.
The Israeli Transport Ministry has launched a program called 'Na'ama', which foresees a drone connectivity network linking a majority of hospitals within two years. Even a relatively short logistics route from Tel Aviv's Sourasky Medical Centre to the Hadassah Ein Kerem Hospital near Jerusalem could save much time if it becomes aerial, since the highways and roads that link the two locations are often congested. Gadfin has applied for a tender to supply four aerial routes in between hospitals in northern Israel, and is expecting a response soon.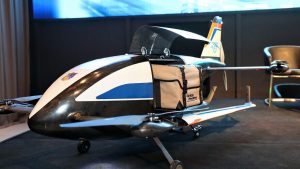 Regev says, "We hope that within two years, we can connect Israeli hospitals. This will speed up deliveries of sensitive medical supplies like bone marrow transplants. These are highly complex and expensive deliveries on land." He continues, "Instead of having doctors or nurses accompany the delivery to make sure the taxi doesn't stop in the sun, our craft whisks them to the lab or hospital in minutes."
Regev's vision includes Africa where rugged terrains make transporting medical supplies via road very difficult. He explains, "The first challenge to overcome is the ability to fly long distances cheaply, efficiently and still electrically."
He continues, "We brought together the best team in Israel, the best plane builders, experts in complex materials, top professors of aerodynamics, flight control and avionics and managed to get to a platform that can stand up to strong winds, and be the only vehicle in the world in this category that takes off vertically like a UAV before folding out wings and flying like a plane, for hundreds of miles. He adds enthusiastically, "This is the 'Spirit One.' No other UAV does this."
Regev geos on, "We are in touch with major companies in Southeast Asia, including Indonesia, which wants to connect its array of 13,000 islands. This is a revolution, and it's available at very low costs."
Gadfin is also developing a larger unmanned aircraft able to carry up to 100 kilograms. This "will enable the revolutionising of the distribution of mailbags and packages throughout Israel, reducing delivery time to just a several hours."
In September, Gadfin announced an investment and collaboration agreement with Italian energy company ENEL, one of the world's largest electricity infrastructure set-ups, through its Infralab innovation lab. The agreement is aimed at developing power line inspection solutions and enabling drone surveys of 800,000 km of the company's voltage lines, starting in Brazil.
Also, Gadfin is conducting surveys for the Agar oil corporation, searching for gas and oil leaks from pipelines. Logistics, however, is the biggest market, said Regev, estimating its worth at USD40 billion.
For visual presentation
https://www.youtube.com/watch?v=p3xAi6v_Q94
For more information
(News Source: https://www.israelhayom.com)