At last week's AUVSI's Xponential 2020 event, public safety personnel from around the world joined the DRONERESPONDERS safety initiative, to discuss drones for the police, fire, federal agencies and general public safety, reports dronelife.com. Examples of use revealed a wide variety of cases and implementations of unmanned craft with in these sectors.
Sergeant Carl Cutler of the Queensland, Australia Forensic Crash Unit, described one of the more innovative, practical and successful implementations usage – a fleet of motorcycles equipped with drones for an efficient forensic analysis of crash sites.
Queensland is big, in fact, twice the size of Texas, with a population of more than 5m people.  Drones are used across the police service in a variety of applications.  The Forensic Crash Unit is the first on the scene of traffic accidents. Its role is to comprehensively document any accident before roads can be cleared.
Cutler commented, "Everyone can relate to being stuck at a road closure… it's frustrating, but from our thinking, if a person was lying there with gunshot wounds, there would be a team of detectives present.  Yet, with a fatal road crash, you're going to get one crash investigator, who has to capture similar information." He added, "That investigator has to be able to relay that victim's end of life story to their next of kin, to the courts, to the tribunal. That takes time."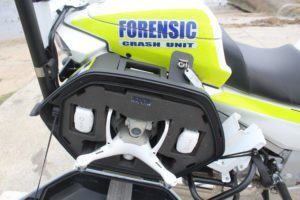 While comprehensive forensic analysis of crash scenes is important, the costs of road closures are very expensive. Cutler said that research in Australia puts the figure at over AUD1 billion in lost production costs due to traffic and road closures. Prompt and fast processing of an accident scene not only benefits the community by clearing the roads sooner, but accurate documentation and measurement can also provide much needed evidence for investigations, prosecutions or insurance claims.
Cutler continued, "We have developed two itineraries. The first was putting a fully qualified crash reconstructionist on a motorcycle so they could get to the scene quicker through traffic and then mark and photograph it, so that the situation could be rapidly cleared. And second, at the same time, we started developing our Remotely Piloted Aircraft (RPA) program."
The Queensland Forensic Unit program uses DJI drones and Pix4D's drone mapping platform.  "When DJI released the Phantom 4 RTK in 2018, we found that by deploying it, we were receiving centimetre accurate data. That's when we joined those two projects together, the drone and the motorbike."
The combination has been a great success, offering time savings of up to 80 percent in processing crash sites.  Cutler concluded, "I'm very proud of what we are achieving. We're claiming this as a world first."
For more information
https://www.australianpolice.com.au/nsw-police-motorcycles/
(News Source: https://dronelife.com)